Soar est neé Cluj-Napoca en Roumanie. Issue d'une famille d'intellectuels, elle met à profit les diverses influences de son éducation dans des études de langues suivies dans des universités en Roumanie, en France et en Allemagne. Enfant, elle tombe amoureuse de la musique. Adolescente, elle développe son talent pour les langues par la découverte de cultures et de civilisations, à travers de voyages à l'tranger et d'expériences multiculturelles sur le vif avec des personnes et traditions, conférant un caractère cosmopolite à son esprit ouvert en quête perptuelle de connaissances.
Soar a un diplôme de Traduction – interprétariat de conférences et détient également un master en Relations internationales et diplomatie. En 2002, son cœur la mène à s'installer en Allemagne où elle vit actuellement, assurant la promotion professionnelle de ses passions : les mots et la musique, les meilleurs moyens de communication pour atteindre l'esprit et le cœur des gens.


*
Selected for TIME is Love – International video art program, 11th Edition, 2018.
Open Competition winner at the Filmpoem Festival in partnership with The Poetry Society, UK, 2017.
Selected for final screening at the International Poetry Festival, Greece, 2017.
Quality independent author, Qindie, Germany, 2014.
Member of: The Society of Authors (UK), Poets&Writers (USA), BPW (AT), Ambassador of BUI – Bodensee (DE).
Soar (s'envoler) représente l'origine et la signification hawaïenne du nom de baptème de l'auteure, Ioana.
*
Publication credits (Germany, Italy, UK, Romania, USA and Australia):
Decanto The Poetry Magazine, Enigma, Lastbench, Flash Literary Journal, Women Move the Soul, Indie Spirit Magazine, Mrkische Allgemeine, BW Polyglott – BD Magazine, Schwbische Zeitung, Woman@Work Magazine, The Munich Eye, The Berlin Eye, Terpress Urbana, Confluente literare, 600 Second Saga, Ginosko Literary Journal, AntipodeanSF, Indie Berlin, Jazz-dis-junction, The Next Review.
Live performances
Soar lectures and performs poetry and stories on different themes and from fresh perspectives to various artistic events in Europe. For enquiries and booking for interviews, performance, artistic events: info@soaring-words.com.
*
Oeuvre littraire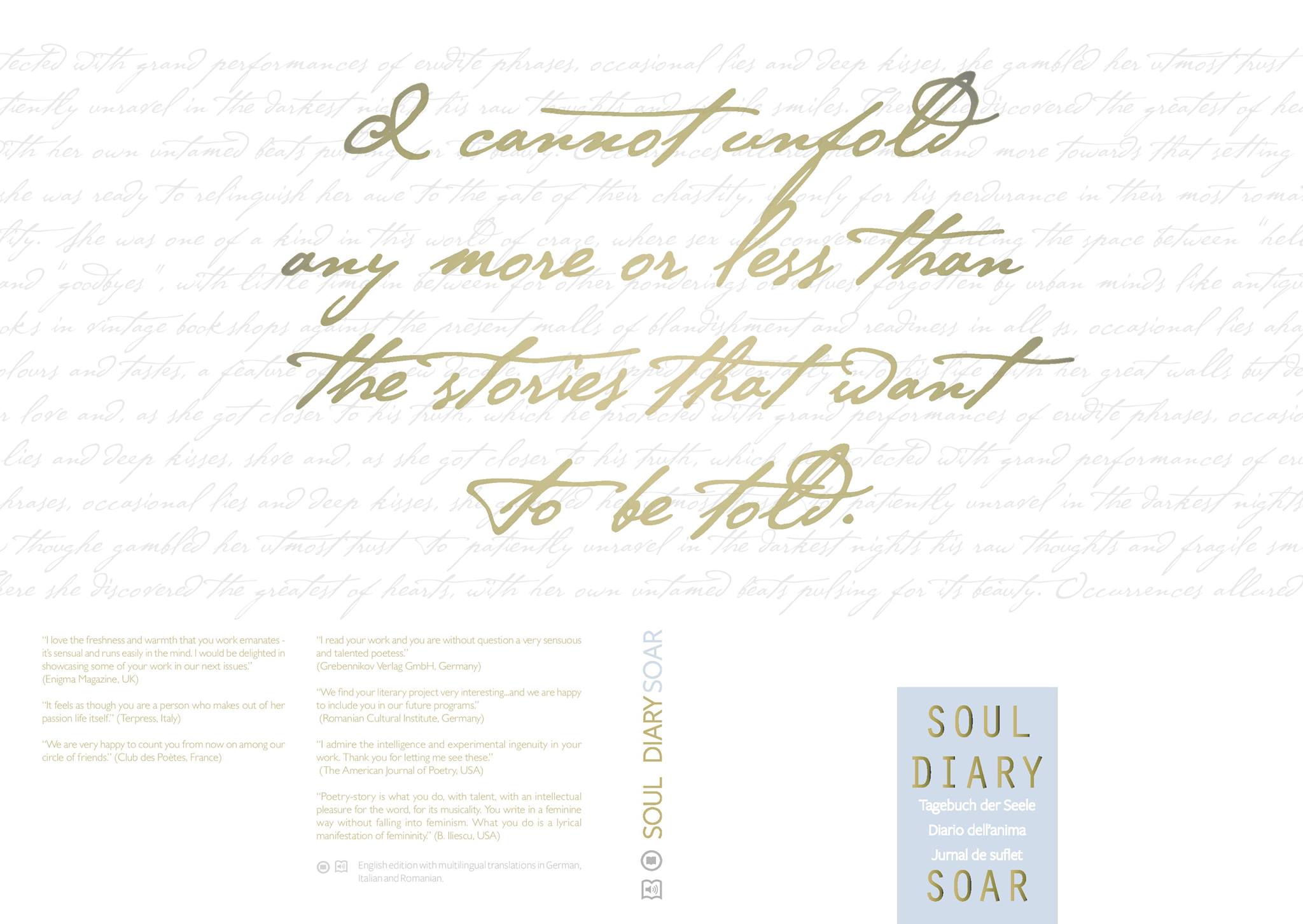 When poetry sets its sails towards the horizon of narrative poems, the land to find can only be fascinating. The author of The trilogy of love and Yours, poetically who lyrically shaped love from the universal elements to time, space and the primordial colours, is now bound to make a pensive stop at the inner values, forgotten in the drawers of innocence, keeping hope pulsing with life.
Veiled in genuine happenings, just like a personal journal of relished secrets for the sequel of grand adventures, the stories unravel little things of significant impact, which can change the course of life and restore its harmony, in the immutable belief that we are not what we are but what we become, if we put our faith to work together with destiny, while remaining true to our inner beauty.


*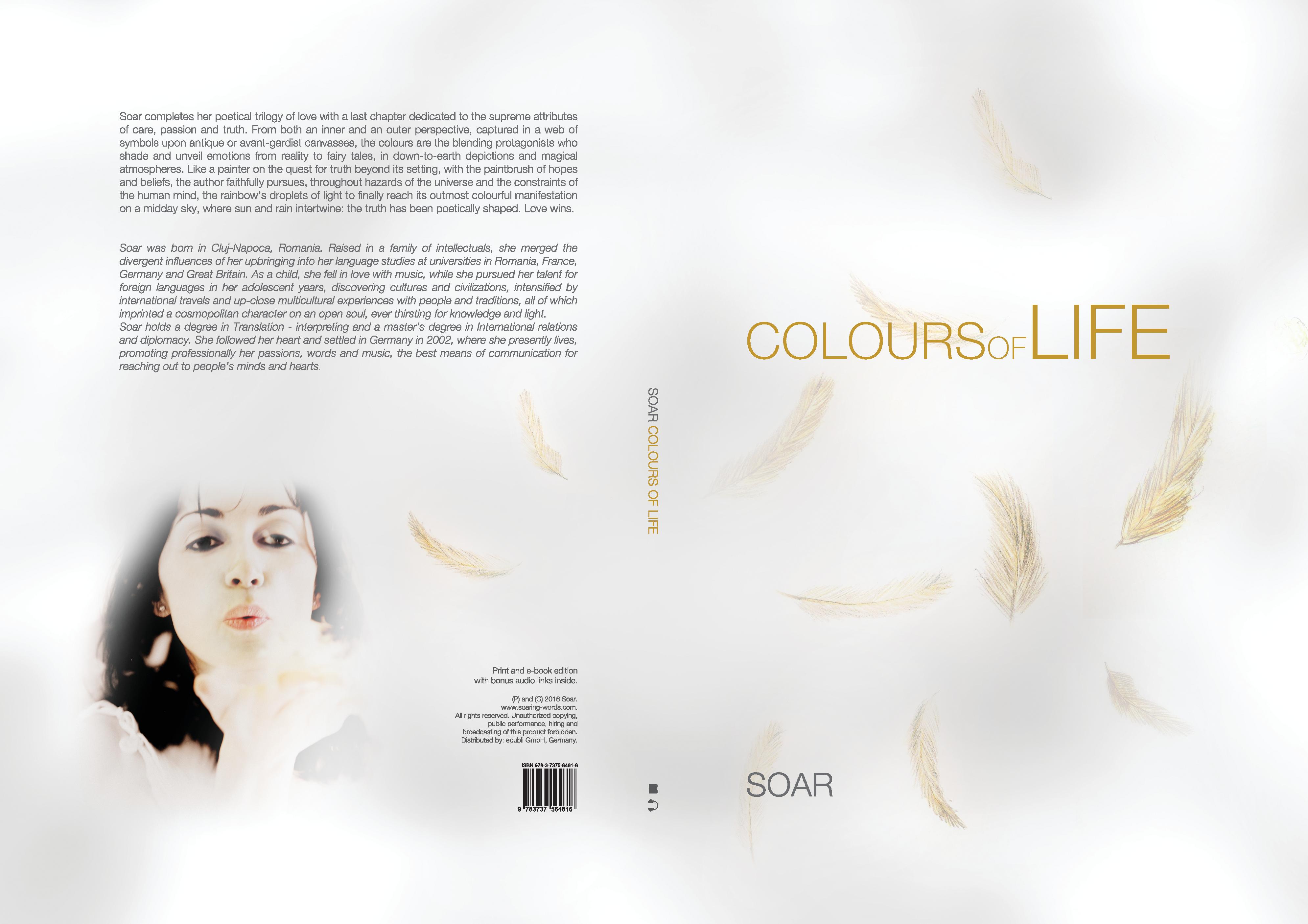 Soar achve sa trilogie de l'amour avec un dernier chapitre consacr aux attributs suprmes de l'affection, de la passion et de la vrit. Partant la fois d'une perspective intrieure et extrieure, captures dans une toile de symboles sur fond antique ou avant-gardiste, les couleurs sont les protagonistes du mlange qui teintent et dvoilent les motions, de la ralit aux contes de fes, aux reprsentations terre–terre et aux atmosphres magiques.
Tel un peintre la recherche de la vrit au-del de son cadre, avec son pinceau d'espoirs et de confiance, l'auteure poursuit fidlement les gouttelettes lumineuses de l'arc en ciel travers les dangers de l'univers et les contraintes de la raison humaine pour finalement atteindre son expression la plus bigarre au znith, lorsque le soleil et la pluie s'unissent l'un l'autre : la vrit ressort sous une forme potique. L'amour l'emporte.


*

*Yours, poetically est une compilation émouvante, mêlant pomes et citations sur la vie et les gens, colore au fil du temps d'expressions artistiques pour faire jaillir le meilleur de la quintessence humaine dans une gerbe d'tincelles remplie d'motions.
La collaboration unique avec une artiste en herbe de 9 ans doue d'un sens certain pour le design et le dessin en fait un manifeste d'une profondeur touchante sur la sensibilit et la force, la sagesse et l'innocence, la quête de valeurs sublimes prserver : l'espoir, l'amour.
*La marque Qindie : livre de qualite' par un auteur indpendant, Allemagne, Mai 2014. Crdits de publication dans des revues littraires et journaux au Royaume-Uni et en Allemagne.


*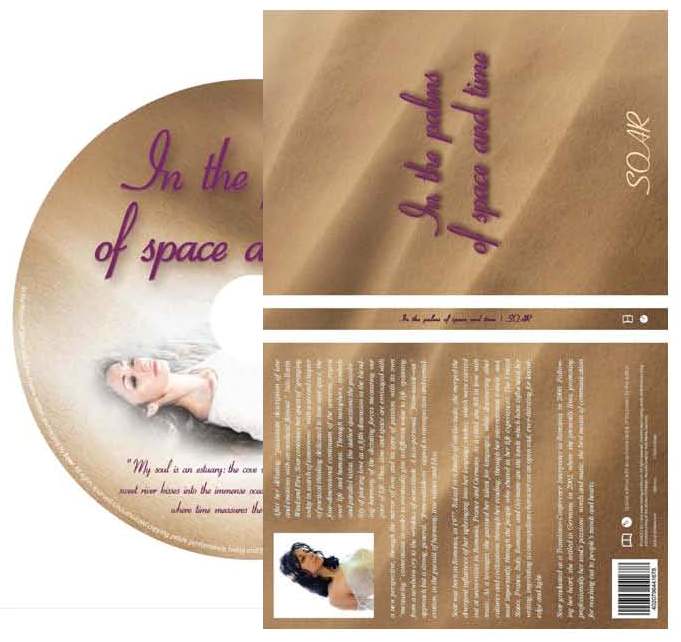 Aprs sa "description passionne de l'amour et des motions avec une touche d'esthtique" dans Into Earth, Wind and Fire, Soar poursuit sa quête, consistant saisir le jour prsent la recherche de lendemains, avec un deuxime chapitre de pense potique ddie au temps et l'espace, au continuum quadridimensionnel de l'univers qui rgne sur la vie et les êtres humains.
Par des mtaphores, des symboles et des panoramas parallles, l'auteure sinterroge sur la possibilit d'riger l'amour en tant que cinquime dimension dans l'harmonie de mlange des forces qui dirigent nos vies. Ainsi, le temps et l'espace sont vus sous une nouvelle perspective, travers le miroir de l'amour et son cŒur de passion, avec ses propres conventions de mesure pour finalement accorder une autre valeur la vie, du premier cri d'un nouveau-n jusquaux rides du grand âge.
Une approche moins personnelle, moins base sur l'extriorisation, mais un fort appel gnral l'intriorisation, l'introspection et la rflexion, la recherche de l'harmonie, des vraies valeurs et du bonheur.


*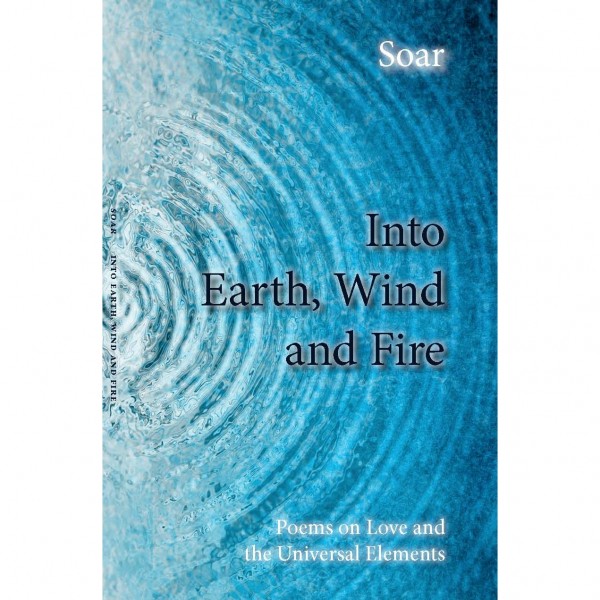 Pour ses dbuts littraires, Soar prsente un recueil de pomes sur l'amour et les motions. Avec diffrents degrs de mtaphores et des registres de langue du simple au complexe, l'auteure prsente de manire mouvante la fusion de la passion avec les lments ternels de l'univers dans une expression finale de l'amour.
Forêts profondes, rivires tumultueuses, vents tourbillonnants et cieux gorgs de soleil : les sentiments sont dpeints dans les moindres dtails, d'aprs le cycle universel de la naissance, de l'ascension, de l'apoge et du dclin pour renaître la lumire de l'espoir et de la sagesse.
L'auteur s'identifie avec le message d'âme et d'amour manant de chaque page, dans sa longue "course cristalline vers la mer bleu profond de l'ternit" jusqu' ce qu'elle trouve en elle-même les joyaux des valeurs qu'elle recherche.
Un livre lire. Un livre ressentir.
*


When words become awards – A few little words of higher gratitude and hopes
"You have created very beautiful work." (Lapwing Publications, UK)
"I can assure you that your poem/s will be featured in future issues of one of our publications." (Lastbench Magazine, UK)
"It was a pleasure to receive your message and read your poetry." (Tears in the Fence- An independent, international literary magazine, UK)
"Thank you so much for contacting Enigma Magazine and showing me your work. I love the freshness and warmth that you work emanates – it's sensual and runs easily in the mind. I would be delighted in showcasing some of your work in our next issues." (Enigma Magazine, UK)
"It feels as though you are a person who makes out of her passion life itself." (Terpress, Italy)
"We are very happy to count you from now on among our circle of friends." (Club des Potes, France)
"I read your work and you are without question a very sensuous and talented poetess." (Grebennikov Verlag GmbH, Germany)
"We find your literary project very interesting…and we are happy to include you in our future programs." (Romanian Cultural Institute Berlin, Germany)
"I admire the intelligence and experimental ingenuity in your work. Thank you for letting me see these." (The American Journal of Poetry, USA)
"Poetry-story is what you do, with talent, with an intellectually erotic pleasure for the word, for its musicality. You write in a feminine way without falling into feminism. What you do is a lyrical manifestation of femininity. It is also modern; one can assume that in the New Yorks underground poetry world it could be the same. It is actually very good. You have a defined style, you dont fall into clichs; you maintain the lyricism and the esthetical level to the same values, no matter where I start to read the story. And the way you read it is part of an artistic act; the word and its sound merge together in your style." (B. Iliescu, USA)
*